Home
Welcome to the Oregon Chapter of the American Backflow Prevention Association web site. The Oregon chapter is one of the most active and dynamic chapters in the entire association. The activities of this organization have furthered the cause of protecting the drinking water systems in the entire state with ripple effects throughout the nation. It is not a stretch to say that backflow protection helps to protect the health of everyone who drinks water. It literally saves lives. If you are a member of the Chapter thank you for your tireless support and hard work. If you are not a member, but in the industry, please join us and help do an even better job of serving our drinking water community.
Tina Dolan
Region Seven Director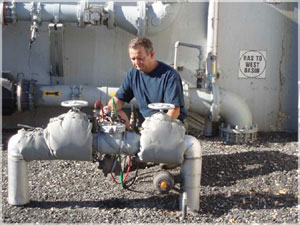 Mark Robinson tests a Reduced Pressure Backflow Assembly that isolates a health hazard location from the public water supply.
The Oregon Chapter of the American Backflow Prevention Association (OR-ABPA) is an organization whose members have a common interest in protecting drinking water from contamination through cross connections. Our Chapter, along with the national organization, is dedicated to education and technical assistance in our region. We are committed to advancing all aspects of backflow prevention for the continued protection of all water users.
The national American Backflow Prevention Association (ABPA) was founded in 1984 by industry advocates to provide educational and technical assistance in order to protect public health by protecting drinking water through effective cross connection control. ABPA has a network of regions and chapters that support local needs and interests with the resources of the national and international organization.
For more information or to become a member, click here.